An Alpha Hydroxy Acid Water exfoliator to manage rough skin and uneven skin tone.
Benefits: Evens skin tone, Brightens complexion, Controls breakouts, Unclogs pores
Hero Ingredients: 1% Kojic Acid
Best time to use me: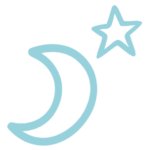 Hyaluronic Acid, Raspberry Extract, Squalane (Do not layer with Retinol as you can over exfoliate your skin)
Skin types: Oily, Dry, Sensitive, Combination
Tips: After exfoliating your skin can feel tight and dry and might even flake a little | Avoid using during pregnancy and breastfeeding.
Ingredient List: Aqua, Lactic Acid, Glycereth-26, Butylene Glycol, Betaine, Kojic Acid, Phenoxyethanol, Ethylhexylglycerin, Disodium EDTA.