A water free L-Ascorbic Acid serum which is highly stable and won't sting when applying.
Sun and environmental triggers create free radicals which are damaging to skin. Anti-oxidants minimise the harmful effects of free radicals. Vitamin C is the strongest anti-oxidant and best ingredient for this job.
Benefits: Strong Anti-oxidant protection, Fade uneven skin, A brighter complexion, Radiant skin, Anti-ageing
Hero Ingredients: 15% L-ascorbic Acid
Best time to use: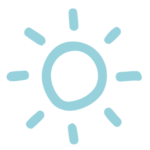 What goes well with: Alpha Arbutin, Hyaluronic Acid, Retinol (Do not layer with an alpha hydroxy acid AHA or beta hydroxy acid BHA)
Skin types: Oily, Dry, Sensitive, Combination
Tips: Apply during the day for the best anti-oxidant protection | Safe to use during pregnancy and breastfeeding
Ingredient List: Propanediol, L–Ascorbic Acid.